See the full post here ➡️ https://www.techpowerup.com/295283/new-cincoze-dv-1000-industrial-embedded-computer-brings-power-to-edge-computing
Today, rugged embedded computer brand Cincoze added the high-performance and essential DV-1000 rugged embedded computer series to its DIAMOND product line. The DV-1000 is a high-performance embedded computer with a compact chassis and flexible expansion options. It is an excellent fit for high-performance industrial applications with limited installation space, such as smart manufacturing, machine vision, and railway computing. With Cincoze's unwavering focus on smart manufacturing, the new DV series rounds out the Cincoze DIAMOND product line, providing industrial customers more performance, scalability, size, power, and certification options. Cincoze now holds its selection of product series to satisfy every requirement as a key advantage in smart manufacturing.
The DV-1000 has a footprint of only half a sheet of A4 paper, with a chassis measuring 224 × 162 × 64 mm, and is powered by a 9/8th Gen Intel Core i7/i5/i3 CPU (Coffee Lake-R S series) that supports up to 128 GB of DDR4 2666 MHz memory. Storage options include 1x 2.5 SATA HDD/SSD tray, 2x mSATA slots, and 1x M.2 Key M 2280 slot for a high-speed NVMe SSD. It is small in size, but it can meet applications in different fields with high-speed computing and multiple storage options.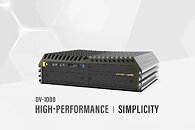 ---
Why should you share your news?
Contributing is one of the best ways to promote a website. This technique has been used for decades now and is still very effective. But, this strategy can make or break your rankings depending on its application.
A news website is one of the best places to publish your blog. This is because such sites always have massive amounts of targeted traffic. If you write quality content, your post will get many hits, and many people will follow your blog.
Disclaimer
The content provided has been modified and is not displayed as intended by the author. Any trademarks, copyrights, and rights remain with the source. Linux Chatter sources content from RSS feeds and personal content submissions. The views and opinions expressed in these articles are those of the authors and do not necessarily reflect Linux Chatter.